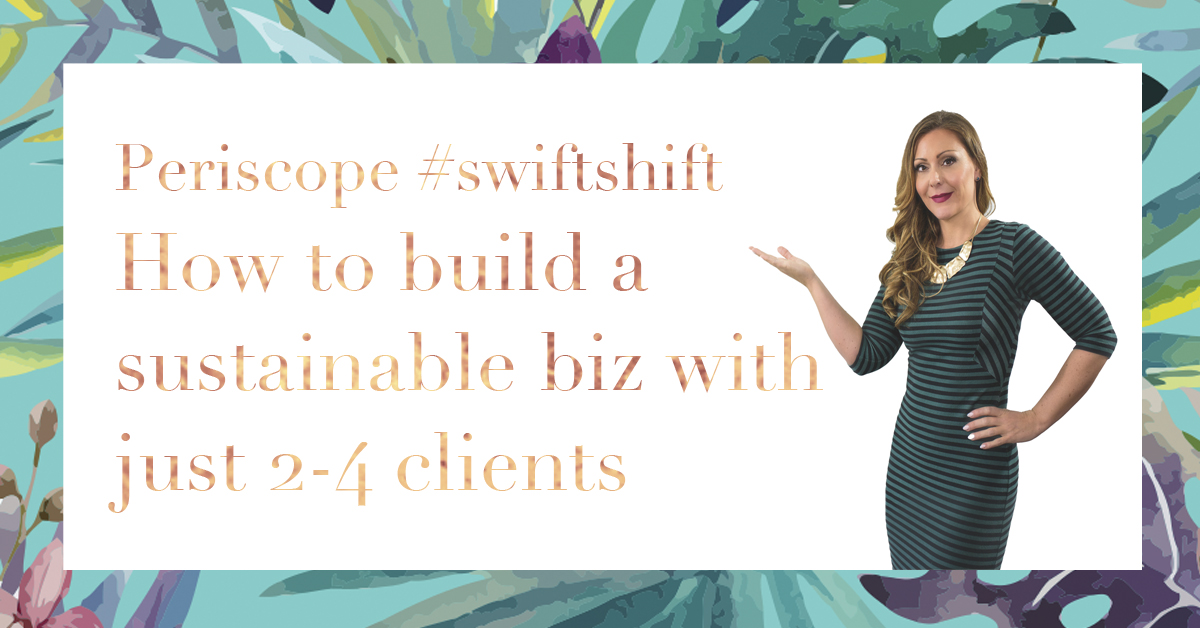 As a female entrepreneur, have you been struggling to keep up with your business?
If you answered "yes", you're not alone.
We've been chatting a lot about this issue in the Start Some Shift group with other women coaches, consultants and strategists.
Earlier this week, I asked for all the questions our members could think of that are relevant to building a lifestyle business.
One member asked…
'How do you build a sustainable business when you only work with 2-4 clients?'
A great question and one that I answer in this Periscope video
[optinx]
WHY THIS MODEL?
I spent about 15 years of my life working with Fortune 500s in branding and advertising agencies. I put in insane hours, working weekends, hopping on and off of planes – supremely dedicated to growing my career, addicted to the hustle of it all…
I was rising in rank but when I looked around, I soon realized that I couldn't enjoy the fruits of my labours (I was too busy, stressed and exhausted).
So when I started my business, I knew that I just flat out didn't want to do that anymore.
I wanted to create a true lifestyle business, one that would afford me the time to do what I loved, have the time to enjoy life while still earning the same amount of money I did in my previous agency-side life.
I strove for fulfillment and have created a business model that sustains my love for life first and allows me to do great work for my clients.
In this Periscope #switftshift episode you'll learn:
• What my retainer model looks like
• What the benefits of a retainer model are over a high volume, hourly-based model
• How it helps me work with better customers and produce much better work
• Why I spend virtually zero time on business administration tasks (like billing and marketing)
• How I can be co-operative, not competitive with other people who do exactly what I do
[optinx2]