Periscope 001: To Hustle or Not To Hustle
In this first instalment of my weekly #swiftshift Periscope video series, I share my thoughts on the 1 word synonymous with entrepreneurship that I fundamentally disagree with (and why I think it's actually sacrificing your happiness).
As entrepreneurs, we're told that in order to succeed, we have to HUSTLE. This word sends shivers down my spine. The problem with this thinking is that people are building businesses that require a never-ending line of clients and an incredible investment of time on social media and other brand-building activities. The end result is burn out and feeling chained to the business.
I believe you can be successful, make great money, and be happy doing what you love to do without the hustle.
I started my business 9 years ago on the foundation of knowing the lifestyle I wanted to live. Then, I built a business model that supported that lifestyle. I work with 2-4 clients per year, I work part-time hours and I don't spend a dime on marketing. But it all started with a very clear understanding of what I wanted my business to feel like.
You can do it too.
#BoycottTheHustle
GRAB YOUR ANTI-HUSTLE GUIDE!
Learn how to build a lifestyle business in 4 easy steps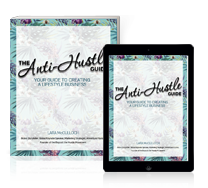 ---